Goats Milk Oat Meal & Orange.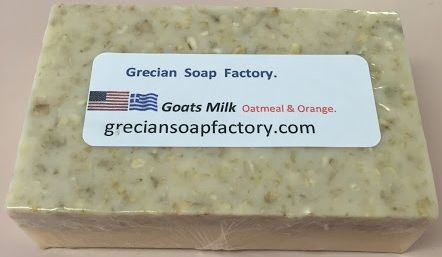 Goats Milk Oat Meal & Orange.

Handmade Natural Grecian Soaps.
We offer Wonderful Handmade & hand-wrapped Natural Goats Milk & Oil Soaps at a best wholesale price for retailers. Our soaps are made from the finest ingredients. The process we making the soaps by hand & hand-wrapped without using any machinery. From Tarpon Springs Fl.

Fragrance: Lavender, Cinnamon, Lemongrass, Heaven scent, Japanese cherry blossom, Milk& Honey, Cherry, Pomegranate, Gardenia, Rose Petals, Coco Mango, Patchouli, Eucalyptus, Orange Blossom, Arabian Sandalwood, Fresh Pine, Almond, Banana.

Ingredients:
Glycerin, Oat Meal Palm Oil, Coconut Oil, Lauric Acid, Aqua/Water/Eau, Sodium Hydroxide, Sodium Lauryl Sulfate, Sorbitol, Triethanolamine, Salt, Goat's Milk Powder, EDTA, Titanium Dioxide
Note: The ingredients on this list, provided to us by the manufacturer, have not been independently verified. The manufacturer uses a small number of processing aids during saponification that are proprietary, do not appear on the list, and are not disclosed.

Because handmade the process, the Soap is 4+ oz.

We can handle all your Soaps needs BIG or SMALL orders.

Full Line of Soaps, Candles Available In Our Showroom.

Ask for Wholesale price.
We solicit distributors. Protect territory.